Why should I care about Growth marketing?
🔥Everyday, new competitors rise.
It's time to outsmart them instead of outspend them.
🚀Growth-marketing brings different kind of profiles together. Leading to new and innovative solutions.
📊Growth-marketing generates a lot of data so you can learn more about your (potential) customers.
Who WE are
We help founders, marketers and growth teams create predictable sales funnels and increase adoption, retention and referral.
The GrowForce team does this by teaching you how to automate lead generation, optimise lead & customer flows and brainstorm about growth experiments. Our team can also help to bring your value proposition, sales and marketing process, technology stack and sales team to a higher maturity level.
200+
Professionals trained
During the 6 week evening course we'll give you a deep-dive into growth marketing with a very hands-on approach. We'll teach you the mindset, the skills and how to implement everything in your own company or project.
no previous skills required
There are no previous skills required and is perfect for anybody who is interested in growing a product, service or his company. We've gathered the best tools, websites, books, best practices, examples and exercises to make sure you end the course with everything you need to know to build and design your own growth tactics.
The course will be led by a team of experienced growth marketers and sales experts from GrowForce. We are always happy to answer any question you may have, even if that may be after the course has ended.
We will be there to help you every step of the way. We create slack channels, so students can directly contact us at anytime. At the end of every week, we send over the slides.
Week 1
Growth Marketing 101
How to think like a growth marketer

Growth Marketing vs Digital Marketing

Value proposition and persona design

Pirate funnel and setting your metrics
Week 2
Experiments design and how to measure
Experiment design

How to come up with the best experiments

Growth marketing canvas

How to track website conversions

How to track visitor behaviour

Analytics tool implementation

How to get relevant feedback from your (potential) customers
Week 3
How and where to find your leads
Spy and steal from your competitors

The most valuable customer acquisition channels

Data scrape introduction and exercice

LinkedIn optimization and automation

Cold email + GDPR
Week 4
HOW TO GET YOUR FIRST /NEXT 100 CUSTOMERS
How to start with ads

Engineer your blogposts for traffic

Find / build online communities

Launching side-projects

Inbound marketing examples

Affiliate marketing

Working with influencers

Technical SEO introduction

A/B testing

Week 5
How to capture and convert your leads
How to build a converting landing page

Social proofing your website

On site conversion triggers

Chatbots best practices

Convert your customers to ambassadors

Up-sell your customers
Week 6
Marketing and sales automation
Set-up your CRM and define your pipelines

The goal of marketing automation. When do we do this?

Re-activate your users with drip campaigns

Retention hacks

Implement the growth marketing process in your company

Developing your growth engine
By the end of the course you will have
✔ Increased your cold outreach through automation
✔ Reduced your customer acquisition cost (CAC)
✔ Become more efficient at sales
✔ Received personal feedback from your tutor
✔ A well-defined target audience
✔ A clear sales strategy to build a strong foundation
✔ A value proposition that leads to direct conversion
✔ Built a high conversion landing page
✔ A lead generation technology stack you can use to accelerate the growth of your business
✔ Basic knowledge of growth marketing
✔ Learned how to conquer new markets and test drive new products or services, without heavy investment in extra sales resources.
Who should attend
This course is excellent for entrepreneurs, freelancers, digital consultants, account managers and sales, recent graduates and employees looking to learn more about growth marketing. It is perfect for anyone looking to update their digital skills, gain a fresh perspective or develop a successful automated sales strategy for their business.
Level: No previous skills required.
Please note: This course is for learners aged 18 and over.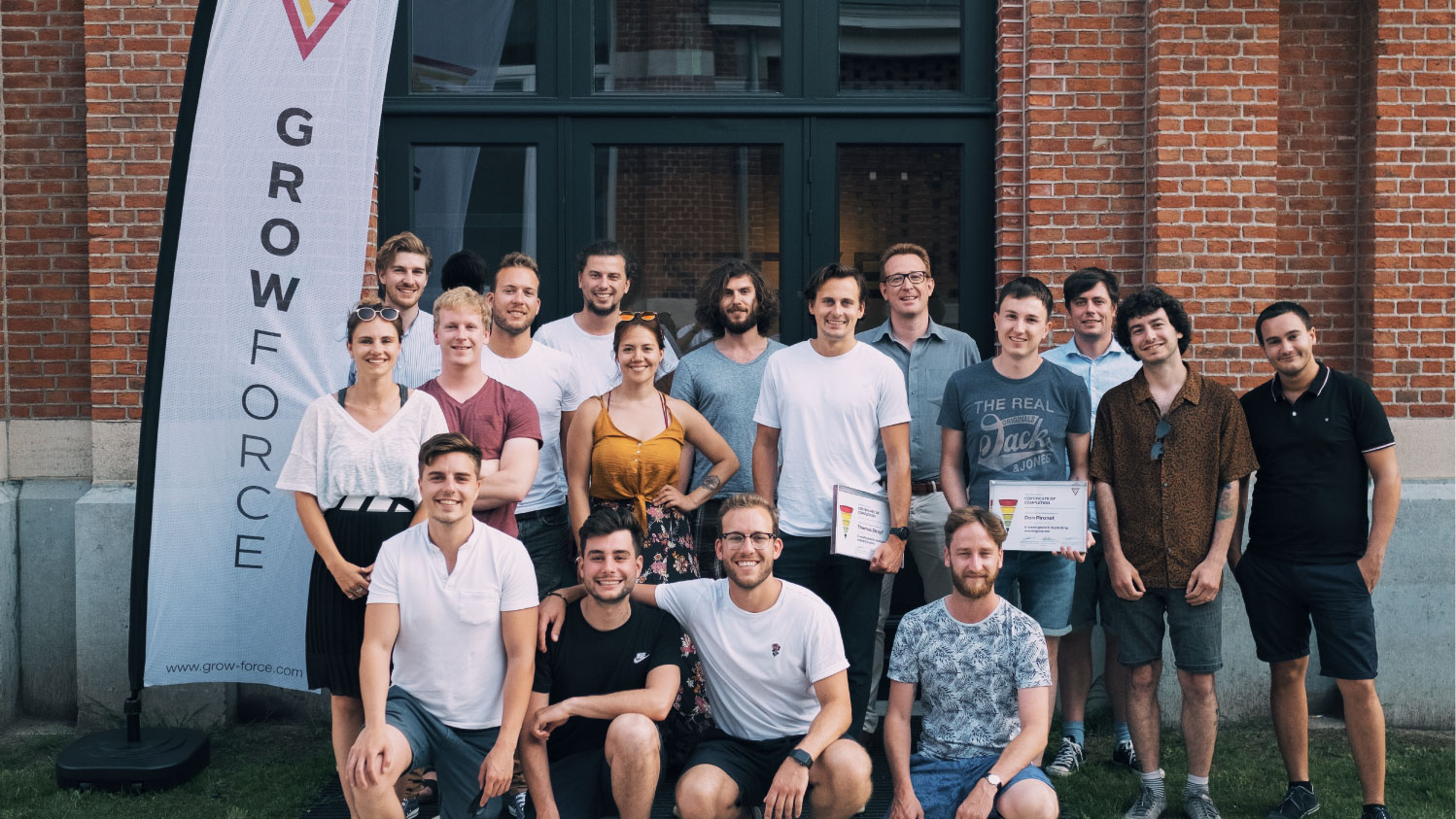 Access to our Slack community
Get certified by GrowForce
Product discounts and free credits
Lifetime access to all our resources
Delicious coffee and healthy snacks
16/10 - 23/10 - 30/10 - 6/11 - 13/11 - 20/11
5:00 PM - 08:00 PM
GrowForce HQ Zaventem
Da Vincilaan 1, 1930 Zaventem
Belgium
15/01 - 22/01 - 29/01 - 5/02 - 12/02 - 19/02
5:00 PM - 08:00 PM
GrowForce HQ Antwerp
Cogels-Osylei 19, 2600 Antwerpen Belgium
Located in the heart of Antwerp
growforce hq
Cogels-Osylei 19
2060 Antwerpen